Dr. Giovanna M. Kiani, V.M.D. is the veterinarian and Medical Director of Harlem Animal Hospital
---
Dr. Kiani received her veterinary degree with honors from the University of
Pennsylvania's School of Veterinary Medicine. Following graduation, to
further specialize her skills, she completed a one-year advanced internship
training program at Bergh Memorial Animal Hospital of the ASPCA in NYC. Following her internship, Dr. Kiani was an Associate Veterinarian in Manhattan and a Medical Director in Queens.

By obtaining a large array of clinical experience working in high volume facilities providing the best quality care, Dr. Kiani has learned the critical components needed to operate a state-of-the-art veterinary hospital. She possesses the personal qualities-empathy, love of learning and its application, and kindness-that are needed to provide outstanding veterinary care. She is excellent at tackling the complexities that arise
while treating animals suffering from multi-factorial disease processes. She understands that financial constraints will arise on a regular basis, and she works well with clients to prioritize her treatment plans. She is an incredibly skilled diagnostician, and she enjoys performing soft tissue surgery. Her professional interests include surgery, internal medicine,
and emergency/critical care.

Raised in central New Jersey, Dr. Kiani developed her passion to care for
animals at a young age. Prior to attending veterinary school, Dr. Kiani
completed her Bachelor's Degree at Columbia University. She graduated with
a major in Latin American Studies and a minor in Biology while also
completing the challenging pre-veterinary medical curriculum at Columbia. Dr. Kiani is
proficient in speaking Spanish as she also studied Spanish language and
syntax at the University of Alicante in Spain.

In her free time, she enjoys running at the parks with her dog, playing
soccer, traveling, cooking with her mother, and going to music concerts.
She currently lives on the Upper East Side with her dog "Muchi," two cats
"Reesie" and "JoJo," and her fresh water fish.
---
Dr. Christina Colón - Veterinarian
---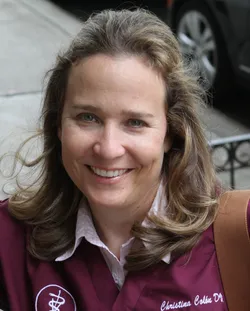 Early in her life, Dr. Colón knew that helping animals was to be her true calling. She studied at the University of Puerto Rico, where she received a Bachelor of Science Degree in Animal Science in May of 1997. She then went on to study to become a veterinarian at the Ross University School of Veterinary Medicine.
Upon graduating in May of 2003, Dr. Colón began her career at the Veterinary Centers of America in New York. In 2005 she began working as the primary surgeon for three, multi-doctor practices under the Riverside Animal Hospital, also in New York. She remained with Riverside for 5 years before becoming a surgeon for the ASPCA Mobile Spay & Neuter Clinic.
For the next several years, Dr. Colón continued to practice her surgical, dental and internal medicine skills acting as a private contractor and associate veterinarian for multiple NYC practices including The Village
Veterinarian, Banfield Pet Hospital, Pet Haven Animal Hospital, and Upper East Side Animal Hospital. In December of 2017, Dr. Christina Colón joined the community of Harlem Animal Hospital. Since then, she has continued to provide outstanding surgical, dental and veterinary care to any and all furry friends in need of her help.
Dr. Colón is also a member of the American Veterinary Medical Association (AVMA). She is also fluent in both Spanish and English.
---
Dr. Tarek Youssef - Veterinarian
---
Dr. Tarek Youssef was born and raised in New York City in a household full of cats. Ever since he was an adolescent, he had always wanted to be a healthcare provider - especially to those without a voice. His two major influences were his father, who was also a veterinarian and his mother, who is special needs child care provider. Dr. Youssef feels as veterinary medicine is absolutely the best fit for him.
"I believe the veterinary field not only helps animals, but also people who care about them." - Dr. Tarek Youssef
Dr. Youssef completed his undergraduate and veterinary degree at The University of Cairo, Faculty of Veterinary Medicine. He acquired a zeal for cardiology and internal medicine. He subsequently completed the certification program of the Educational Commission for Foreign Veterinary Graduates of the American Veterinary Medical Association. He expresses a keen interest in diagnostic medicine and believes himself to be an ardent advocate for animal welfare. He also is a member of a volunteer ambulance corporation.

When not caring for animals, Dr. Youssef also enjoys traveling, listening to music, reading, cycling, and watching medical dramas. He also loves spending time with his three cats, Fathy, Zakaria, and Pepper.
---
Marion Alston - Client Care Supervisor
Biography coming soon!